Sitting between glorious Royal Parkland and the buzz of central Knightsbridge, Mandarin Oriental Hyde Park, London is re-imagined and re-invented, offering the essence of timeless heritage coupled with contemporary flair and impeccable service.
Light and contemporary, our guest rooms and suites are uniquely designed and individual in layout, overlooking tranquil Hyde Park, vibrant Knightsbridge or the beautiful inner courtyard.
Reflecting the hotel's peaceful parkside location, each room and suite is decorated with carefully curated artworks and custom-designed furniture, creating a warm and inviting environment.
As part of the most-extensive multi-million-pound restoration in the hotel's history, internationally-renowned designer Joyce Wang, oversaw the new design of all the rooms, suites and public areas, inspired by the natural beauty of neighbouring Hyde Park and the glamour of the 20th century Golden Age of travel.
The stunning re-imagining of The Spa at Mandarin Oriental, London along with the hotel's destination restaurants and Mandarin Bar, were directed by esteemed New York designer Adam D Tihany.
FEATURES AT A GLANCE
141 rooms and 40 suites, with many rooms and suites featuring private terraces and balconies
3 Restaurants and the Mandarin Bar
– Dinner by Heston Blumenthal, the two-Michelin-starred, award-winning restaurant
– Bar Boulud, a stylish bistro and wine bar, offering a truly special dining experience
– The Rosebery provides the perfect backdrop for all-day dining, afternoon tea and champagne cocktails
The Spa at Mandarin Oriental, London is a haven of tranquillity, promoting an aura of relaxation, mindfulness and life balance including 13 treatment rooms, 2 massage beds and a Rasul water temple
The Fitness and wellbeing centre boasts state-of-the-art Technogym™ equipment, a 17- metre indoor stainless steel swimming pool and a PilatesPT studio with award-winning trainer Hollie Grant
Royal Lancaster London
HYDE PARK'S PROUD MID-CENTURY ARCHITECTURAL ICON
Royal Lancaster London stands proudly on the border of Hyde Park, offering breathtaking views of the famous London skyline
The hotel features 411 guestrooms, impeccably designed to combine timeless style and sumptuous comfort. The collection of elegant and spacious suites include the signature Royal and Lancaster Suites – the pinnacle of luxury on the 18th floor.
The hotels restaurants and bars include the award-winning Nipa Thai, serving the most authentic Thai food outside of Bangkok and Hyde Café, the perfect hideaway to enjoy artisan coffee, delicious pastries and an indulgent Afternoon Tea. Breakfast is served in the beautiful Park Restaurant alongside stunning floor to ceiling views of Hyde Park and in the afternoon; enjoy a carefully crafted cocktail menu and relaxed dining in the cosy Park Lounge Bar.
Renowned as one of Europe's leading event venues, Royal Lancaster London features two large ballrooms, a range of smaller meeting rooms and the unique and innovative Studio 19, hosting virtual and hybrid events in the heart of the capital from our 19th floor.
The hotel is conveniently located adjacent to Lancaster Gate Station on the Central line, with Paddington Station just a 5 minute walk away, offering easy access to Heathrow Airport and the newly-opened Elizabeth line.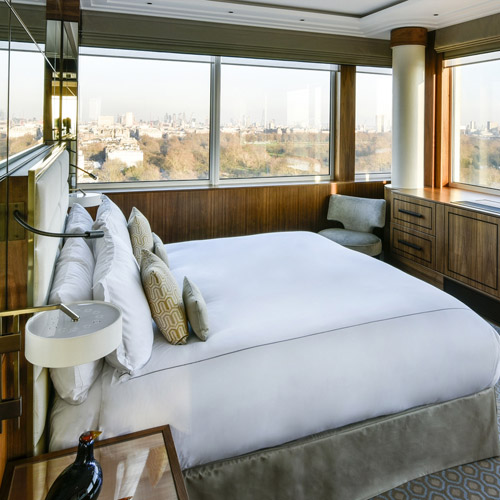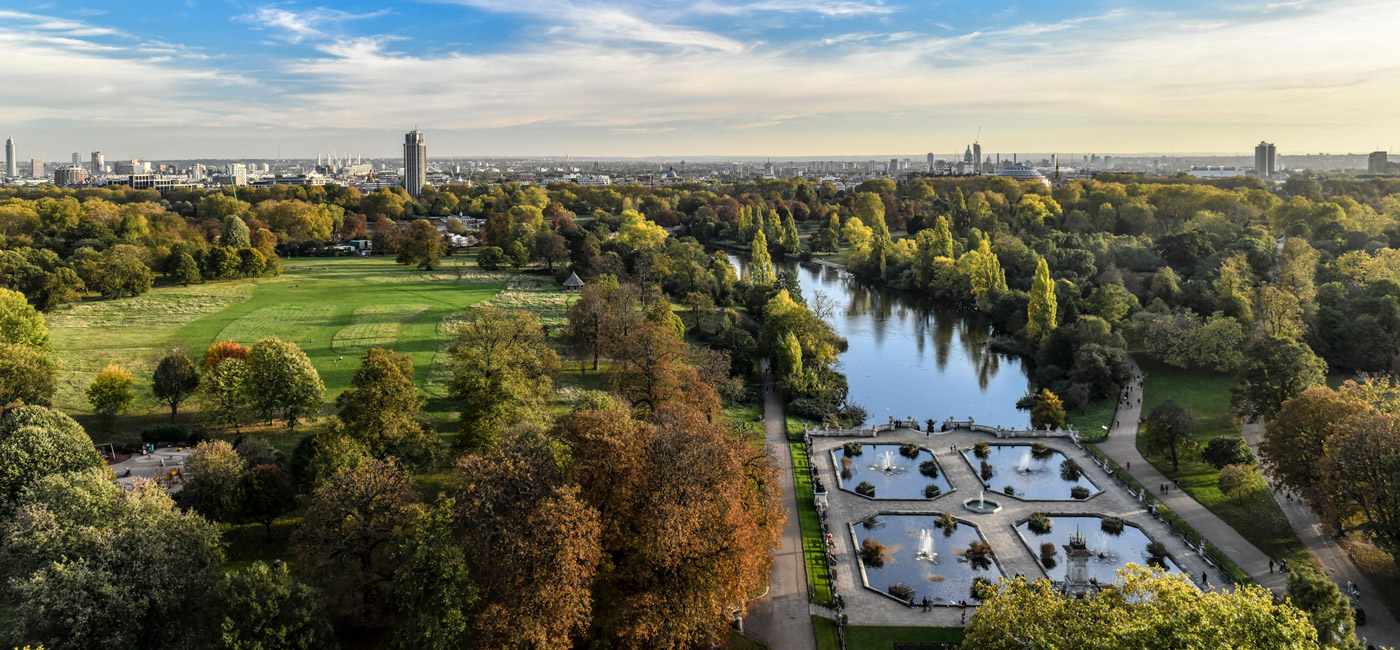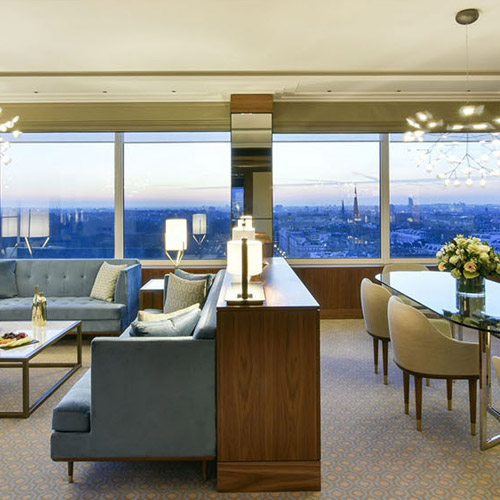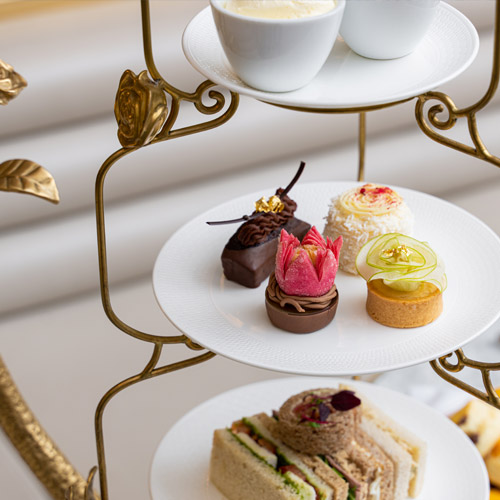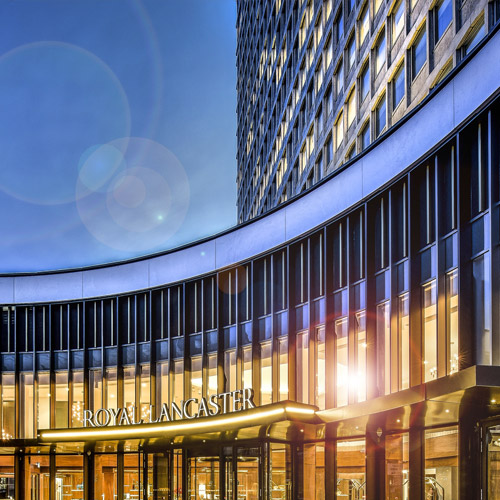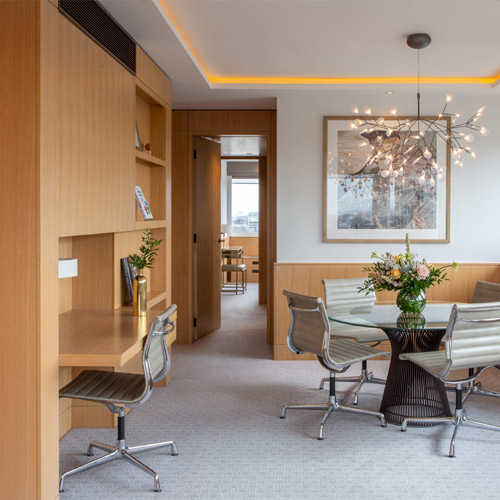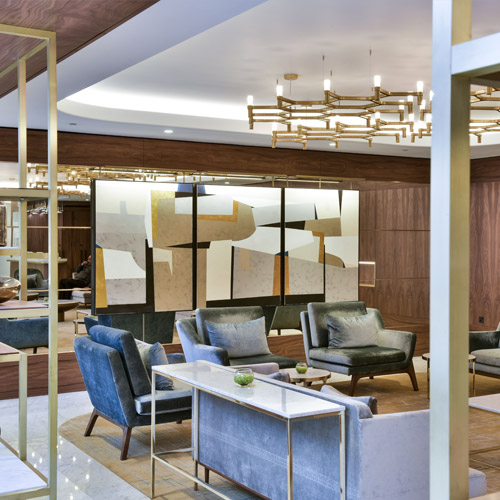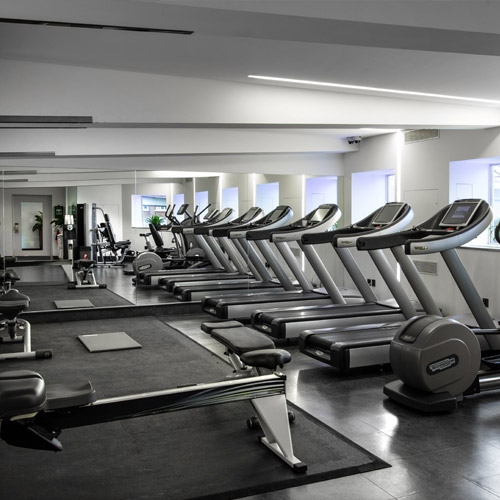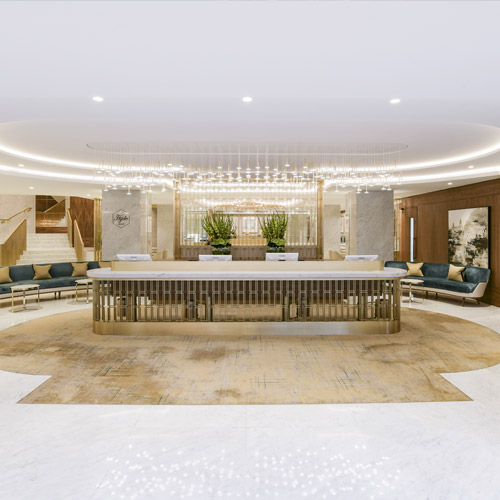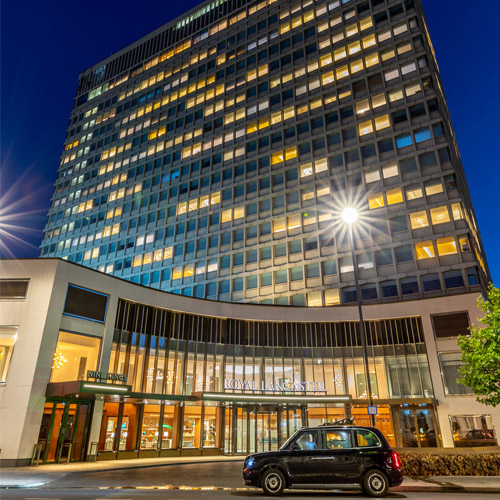 RESTAURANTS & BARS
Nipa Thai
Discover the most authentic Thai cuisine outside of Bangkok at our beautiful and welcoming restaurant Nipa Thai, a hidden gem tucked away on our first floor.
Tony Page at Island Grill
Discover our elegant restaurant opposite Hyde Park, famed for its relaxed and modern international menu including a selection of our signature dishes, and our renowned warm and attentive service. For alfresco dining, our heated outdoor terrace provides the perfect backdrop with views of stunning Hyde Park and the Italian Gardens.
Park Restaurant
Our beautiful restaurant with stunning floor to ceiling views of Hyde Park and the Italian Gardens, serves one of London's most extensive breakfasts, with both buffet and à la carte options available to start your day perfectly.
Park Lounge Bar
From 4pm until late, a cosy and intimate space.
Hyde Café
From artisan coffee served with delicious pastries and homemade cakes, to Champagne Afternoon Tea – it's your perfect hideaway to escape the hustle and bustle of the city
HOTEL FEATURES
The 411 rooms and suites at Royal Lancaster London combine timeless classic style, sumptuous comfort and spectacular views of Hyde Park and the famous London skyline. Each room has been impeccably designed with every luxury and amenity in mind, to ensure that every stay, whether business or pleasure, is truly memorable.
It's a Dog's Life!
Bring your furry V.I.P for a paw-fect stay including yummy treats and Hyde Park on our doorstep!
Our Hotel Relationships
We have negotiated special bespoke deals with with the World's premier holiday providers, and we offer our clients a special discounted rate that is not generally available along with discounts on the amenities offered as part of the package. More importantly we save you money and we won't charge you anymore than if you booked direct…
Enquire
To obtain your special preferred discounted rates, please fill in the form below: